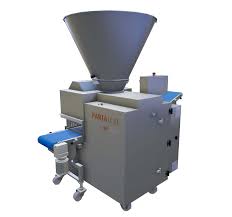 The PARTA U XL
Introducing the new PARTA U XL from WP Haton.
The PARTA U has set the benchmark in dough dividing for over half a century. and now it has a big brother: the PARTA U XL. This gives you all the benefits of the PARTA U at capacities up to 4380 pieces per hour!
The user friendly PARTA U XL, 3 pocket dough divider, is suitable for all kinds of doughs. The round neck hopper has a standard size of 120 litres, with bigger sizes available as options.
Dough pieces are transported sideways and the whole dividing process takes place in a very dough friendly manner.