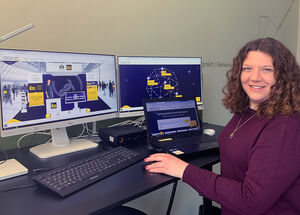 online IBA "Connecting Experts | 25th – 28th October 2021
Networking around the globe, new business contacts and presenting innovations worldwide: iba.CONNECTING EXPERTS gathered experts from the global baking industry and has proved itself to be this year's first global and successful business and networking platform with 5,340 direct interactions in the form of personal conversations and product information.
In addition to the networking opportunities, the high number of international participants was particularly interested in the supporting program of iba.CONNECTING EXPERTS. A total of 11,860 registrations were recorded for the online lectures, held by renowned experts. Worldwide, the virtual event resulted in 3,480 minutes of knowledge transfer and innovation exchange in the course of the online lectures alone. In addition to the platform, the social media channels were running hot: The cumulative reach, exclusively related to the exhibitors of iba.CONNECTING EXPERTS, amounted to around 1.1 million followers.
> Read more from IBA...