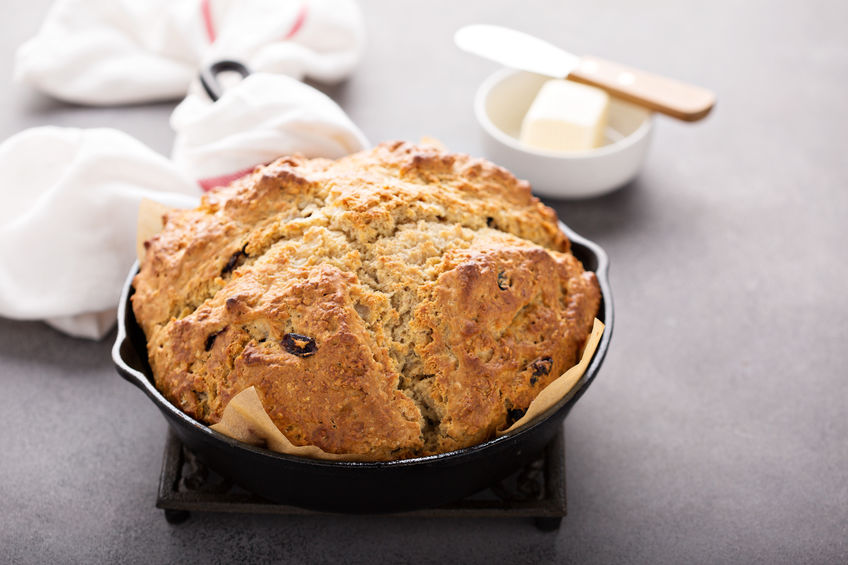 Irish Soda Bread, the Ambit way…
Irish soda bread is a type of quick and easy bread that uses baking soda as a leavening agent. While this may not seem like much of a revelation these days, due to the prevalence of baking soda in all kinds of recipes, it was a boon to bakers in Ireland in the mid -1800's.
At that time, Ireland did not have a strong tradition of yeast bread-making because, unlike other European countries, they didn't produce much of the high protein (hard wheat) flour necessary for making good yeast breads. When baking soda was introduced to the country, it pretty much replaced yeast. It produced a reliable rise in the oven, made tasty loaves of bread and would work perfectly with softer Irish Flour.
Irish soda bread has a hearty flavour that pairs wonderfully with sweet or bitter citrus marmalades. If your loaf isn't fresh out of the oven, toast the Irish Soda bread before adding the marmalade.
Directions
Preheat the oven to 220 C. Whisk together 500 grams of flour, the sugar, salt and baking soda in a large mixing bowl.
Work the butter into the flour and add the currents or raisins. With clean hands, work the butter into the flour mixture using your fingers until you have a coarse consistency.
Make a well in the centre of the flour mixture. Add the egg and the buttermilk to the well amd mix with a wooden spoon until the dough is too stiff to stir.
Dust your hands with a little flour then gently knead the dough in the bowl just long enough to form a rough ball. If the dough is too sticky to work with, add a little more flour. Be careful not to over knead.
Transfer the dough to a lightly floured surface and shape into a round loaf. Note that the dough will be a little sticky, and quite shaggy (like a shortcake biscuit dough)
You want to work it just enough so that the flour is just moistened and the dough just barely comes together. Shaggy is good. Be careful not to over-knead the dough or the bread will be too firm. Transfer the dough to a large, lightly greased cast -iron frying pan or a baking sheet (it will flatten out a bit in the pan or on the baking sheet)
Ingredients
500 to 560 g Flour

1 tablespoon sugar

1 teaspoon salt

1 teaspoon baking powder

4 tablespoon butter

150 – 175 currents or raisins

1 large egg, lightly beaten

320 ml buttermilk